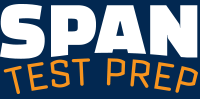 At Span Test Prep, students will learn from a well-trained staff, while gaining a deeper understanding of the test's material.
After 20 years of success and more than 3,000 students, Span Test Prep continues to work endlessly to give students the training and education they need to succeed come test day. Watch your student's scores jump to the top percentile with help from Span Test Prep's top-notch ACT, SAT, PSAT, GRE, GMAT, and math tutoring services.
Span Test Prep Has The Resources To Help Your Child Succeed
If your child's test scores need a much-needed boost, a 'one size fits all approach' simply won't cut it. Each student learns differently, which is why Span Test Prep's one-on-one tutoring sessions can identify the best action plan to conquer the approaching test. Supported by some of the brightest minds in the industry, Span Test Prep's team of dedicated tutors consider other factors such as test anxiety, time management, and self-esteem in order to gauge a student's performance and offer the best training available to maximize test scores.
The benefits don't stop there! Span Test Prep even simulates a real testing environment so students know what to expect on test day. Get ready to watch your child master helpful testing strategies and time management skills that will inspire them to perform to their best of the abilities.
Test Prep Services Made Easy
Students and parents alike all choose Span Test Prep as the go-to center for test prep in Buffalo Grove, Highland Park, and Evanston. Whether through one-on-one or group tutoring sessions, students will develop the skill set to face with SAT or ACT with confidence! Span Test Prep students, on average, score 5-6 points higher on the ACT, all while averaging less time out of a student's day than other institutions. Former students studied at MIT, Boston University, Notre Dame, Cornell, and many more!
Don't miss out on one of the most effective test prep institutions in the Chicago area! Give your child a once in a lifetime opportunity to earn the best test scores possible! Call now at 847.724.9188 to register with Span Test Prep today!